Nazarenes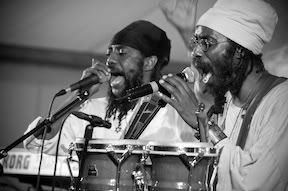 Since their debut album, Orit, in 2001, the Nazarenes have brought forth some of the most refreshing sounds in reggae music. Brothers and lead singers, Mehdane Tewolde and Noah Isaac Tewolde, possess two of the most distinguished voices in contemporary reggae. Their soulful, wailing, haunting voices pay homage to reggae's youth, a time when its artists drew heavily from the best of America's soul singers, and evoke memories of the brothers' childhood days in Ethiopia where they listened to reggae and R&B.
To listen to the Nazarenes is to embark upon a spiritual journey, shepherded by two of the most distinct voices in thebusiness. Their trademark harmonies and impeccable vocals are captivating. And while their mesmerizing music stands on its own, so too do their voices as an capella.
Their voices are their instruments, and through them, the Caribbean's music has found an opportunity to rejoin it's ancestral continent as Eritreaand Ethiopia's rich past finds a voice in Jamaica's music. Reggae's diaspora returns home in the voice of the Nazarenes, firmly planted in reggae's radical and rebellious sound. In the Nazarenes, beauty, pain, love, pride, and hope come together.